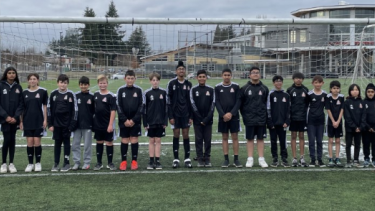 Abbotsford Middle School and our Global Family
January 11, 2023
Abbotsford Middle School is an International Baccalaureate school.  IB aims to develop inquiring, knowledgeable and caring young people who help to create a better and more peaceful world through intercultural understanding and respect.  One of our primary goals is to develop Internationally minded students who recognize their humanity and shared guardianship, which is not difficult for us because we are a school of great cultural diversity. We have students from all over the world.  Our school population boasts over 30 different languages, and we represent many cultures, from our local indigenous people and broader Turtle Island to the far reaches of the world. Morocco, India, Pakistan, China, Japan, the Philippines, Ukraine, the U.K., Syria, Spain, Uganda, and Jordan, are a few of the international countries represented in our population. We celebrate the beauty and strength of our diversity through our IB programming and our commitment to developing a globally sensitive culture. One powerful event that brought us together these past months was soccer. 
As Abby Middle Huskies, we were proud to stand beside our men's Canadian National Soccer Team as they played in their first world cup soccer tournament since 1986.  Alphonso Davies, Tajon Buchanan, and Atiba Hutchinson wowed us with their hard work and determination. There were many great moments, and we were excited to join them on their journey. The soccer academy at AMS has developed a strong culture of soccer enthusiasts within our school; celebrating the World Cup brought everyone at AMS together. Watching the games in the gym, the classrooms, and during breaks united us in joint celebration and reminded us of the richness within our global family.   
Fundraising within the pods for the opportunity to watch Canada vs. Belgium in their first game was fantastic, and every student who came and watched was entered into a Jersey Raffle for an Official Canada Soccer Jersey. Grade 8 student Navneet from K18 was the lucky winner. The AMS Soccer Academy received their new Adidas soccer kits and got to test them out on a cold December day when the snow finally cleared from the turf field.  
As World Cup Soccer 2022 ends, we are grateful for the opportunity as a school community to participate in the celebrations and foster understanding and respect for the beauty within our global family.
BEN KRUGER, VICE-PRINCIPAL
Abbotsford Middle School