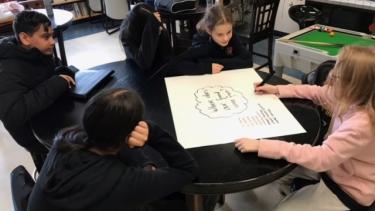 Schoolwide Inquiry: Connections
February 2, 2023
Many Eugene Reimer school community members have deep roots in farming and agriculture in the Fraser Valley and beyond. Our catchment stretches across most of West Abbotsford's agricultural areas, and many of our students and their families are involved in this industry. During last year's Farmer's protests, we were reminded that even our students who live in the suburban areas of our catchment have strong familial connections to farming.
This connection has inspired our staff and students to embark on our first schoolwide inquiry. As part of the district's strategic plan to provide engaging opportunities not only for our students but also our staff and the Eugene Reimer community, we are inviting inquiry into how global and local events impact food supply and affordability.
Through a staff brainstorming session involving a cross-section of students, we developed a driving question for the adults in our school: How can students cultivate their curiosity about things they see in their school and their community and create actionable steps to address them?
Our first step was creating space and time for our students to guide us as adult learners by providing student-centered inquiry questions. From this, our students developed their inquiry questions. First, "What impacts the food that is available to us?" and second, "Where does our food come from?". Next, we are reaching out to our community and are hoping to involve local agricultural business owners to help connect our project to real world applications. Parents and community involvement is a key part of our school, and we plan to use this project as a catalyst.
As we begin our inquiry journey, we have reached out to other District departments for collaboration and support. Connecting to the Curriculum and Career Program and our school team is an example of true synergy in the Abbotsford School District. To support Career Education, students will be invited to use the career development platform MyBlueprint to document their inquiries in a portfolio. Using this platform will also foster discussion around the transition from middle to secondary school, including collecting and curating evidence of learning. We look forward to reporting the progress of this project in the future.
IAN LEVINGS, PRINCIPAL
Eugene Reimer Middle