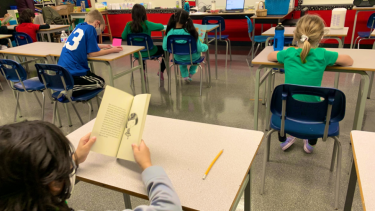 School is Where the Heart Is
December 9, 2021
When I was recently asked to share with some of my colleagues how our school district was handling the challenges related to the recent rainstorms and flooding, I could not help but reflect on the numerous calamities we have experienced as a community over the last decade. In addition to the pandemic and disastrous flooding of the last three weeks, our community has endured more than its fair share of tragedies. We have lost more students from a range of misfortune too difficult to recount here. None was more devastating than the attack on Abbotsford Secondary, resulting in the death of Letisha Reimer. As I told my colleagues, it is both a positive and a negative that we have been so practiced at critical incident emergency responses.
On the one hand, it is good that our district and school-based critical response teams know how to deal with things like emergency lockdowns and evacuations. Yet, in many respects, it is also problematic that we developed these capacities from having lived through so many calamities. Many of you will recall how community members rallied to support the district, the school, and the affected families in the wake of the Abby Senior tragedy five years ago. The "Abby Strong" movement was symbolic of how this community embraced us in the hour of greatest need.
The same holds true here. Tragedy was heaped upon tragedy for the families living in Sumas Prairie. In addition to losing property, families lost their livestock and their very livelihoods. And they also lost access to their school, which are places of hope in a community. We count on schools as a stable source of support, a safe space, and an inspiration during our most difficult times. In speaking with affected families, I was struck by the comments of one parent who told me that they were really looking forward to having their kids in school just to help them begin to assess the damage to their farm. It was one less thing to worry about. So it was no surprise to me that when we opened up temporary schools at the Abby Arts Addition, W.A. Fraser Middle, on Se:math First Nation, and in Chilliwack the week after disaster struck, we had close to ninety percent of these students in attendance.
It was not easy. The staff at Upper Sumas and Barrowtown were given minutes to hastily collect what materials they could before they had to leave their flood-damaged schools to get set up in new temporary locations. At the Abby Arts Addition, the Upper Sumas front office was set up in the kitchen, and the three primary classrooms were spread across the open space round tables to demark classroom groups. Still, the staff had managed to access the space ahead of time to decorate their new make-shift classrooms for Christmas. Children and parents were being greeted with hugs by their teachers as they arrived at the door. Students embraced each other and engaged in their soft start activities. The staff had contemplated the challenge of supporting families with multiple children in the school and had given them a choice about which site they could keep sibling groups. One expectant father arrived with his children, asked if he could keep his kids together at this site and was pleased that the answer was yes. He walked one of his daughters to her new temporary classroom, only to discover that her best friend had been clustered at the Fraser Middle site. She wanted to be with her friend, so he apologized to the principal told him that he was going to drive his daughter to that site. This was the comfort they needed.
Over at the Fraser Middle site, three classroom spaces were used, two in the portable and one in the multipurpose room. The students and staff were settling in, in part because of the gracious accommodations of the Fraser Middle staff. I was party to some artwork that students in one class had started as part of their debrief and processing of what had transpired just days before. Their pictures were as beautiful as they were heart-wrenching. Students drew pictures of flooded homes, helicopters rescuing family members and livestock, sandbagging, and working with soldiers. This one class was engaged in choral reading, and you would not know of their travails by listening to their energetic voices. They told me they missed their classroom but were happy to be at school. After all, they were in the company of each other, and a teacher whom they knew loved them.
Over at the third site at Se:Math First Nation, students were finishing up from recess where one student had fallen on the playground and was predictably being comforted by this classmates and teacher. Elder Tina Lakey had travelled with me to check in on the students. We sat in on a story about the Gingerbread Man with the group of students who listened and participated enthusiastically before preparing for their literacy circles. I met Carden, who told me that he preferred math over Language Arts and that he dislikes getting into trouble. We got hugs from Tiago, who made us promise to come back to visit. Tina and I returned to Fraser and helped to get equipment set up for the classes.
The staff at both of our schools had been beset by catastrophe and displacement, but with the help of colleagues from around the district, they rallied to reopen school when they were most needed. It was not easy, was not perfect, but it provided the necessary comfort and stability needed in the middle of crisis. Families needed to start to heal from the tragedy and knew that the love and community that exists in their school was essential to recovery. In truth, the relationship with one another was more important than the physical space. As crucial as the Upper Sumas and Barrowtown building are, its occupants and their connection to each other are far more valuable. School is far more than the place where we congregate every day to for academic learning. Our colleagues and students at Upper Sumas Elementary and Barrowtown have reminded us that school is where the heart is.