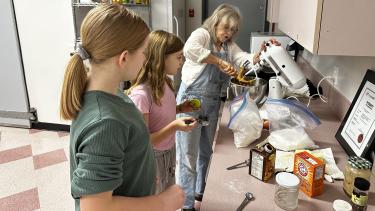 Nurturing Students' Full Potential
March 8, 2023
We all know by now that education is not just about cramming information into students' minds but about nurturing them in a way that develops young people to their full potential.  
The Abbotsford School of Integrated Arts (ASIA Sumas) recognizes the importance of creating a space where students' voices are respected and heard. Last spring, as a school, we identified various strategies and activities that we wanted to implement to help create a joyful, engaging, and supportive educational environment for our students. We understand that school is not just a place to learn academics but also for education in skills such as collaboration, advocacy, and empathy. Part of this process is listening to our students. What do they want and need to be successful at our school? 
We first reworked our timetable to add Flex Fridays for secondary and middle school students. This initiative provides opportunities for students to explore their passions and interests outside of the regular curriculum for the first hour of the day. Middle school students choose a passion area that connects them with middle school staff, not necessarily in their grade. They can choose from drama, dance, choir, 3D printing, guitar, crochet, rugby, sewing, leadership, game development, or gardening/cooking. Secondary students, on the other hand, can use Flex Fridays for credit recovery, extra support, or group/project work. An unintended benefit of Flex Friday has been the secondary volunteers who now have the opportunity to work directly with middle school. They join in middle flex workshops, acting as mentors and leaders, connecting with the younger students. Although we are on the same campus, our secondary and middle schools have two separate timetables. This has been a happy connection that brings our students together. 
Secondly, we created a Student Council to give students a voice. Students can share their thoughts on how the school can better support their diverse needs. Senior students are in executive roles, and grade representatives from 6 to 12 create a supportive environment where students' perspectives are appreciated. 
We also knew we wanted to increase student resiliency and engagement by providing social-emotional support. Students expressed concerns about long classes, testing, due date anxiety, busy schedules, and classroom settings. We responded by moving classes to a semester and linear timetable, reintroducing our Reset and Return break room, and providing mindfulness topics headed by Foundry representatives. Every Monday, they share a short schoolwide announcement that focuses on subjects like self-care, anxiety, balance, and perseverance. 
Finally, once we established a healthy learning environment, we set to build on our academic skills, such as reading and numeracy, to help students achieve their full potential. In middle school, we have implemented a common reading and math assessment to help teachers identify gaps and provide targeted support to struggling students. We also adopted daily Drop Everything and Read time after lunch, where students can read for enjoyment while preparing themselves for the afternoon.  
ASIA Sumas has embraced the partnership of staff and students to create a joyful, engaging, and supportive educational environment. We are thrilled to have opportunities for students to explore their passions and interests, voice their opinions, and build foundational skills to support growth and excellence. 
KAREN BENNETT, PRINCIPAL
ASIA SUMAS MOUNTAIN